All 1983's must come to a close and this is no exception to that rule. Join the historians as they double check their recording device in preparation for a marathon of popular properties on The Peacock! This week's schedule: The Flintstone Funnies, Shirt Tales, The Smurfs, Alvin and the Chipmunks, Mr. T, The Incredible Hulk & Spider-Man and Thundarr the Barbarian.
Here's the 83 NBC Saturday Preview, featuring Silver Spoons own Ricky Schroder, and something called the…Yummy Show?
Here's the print version of the Saturday preview, which actually has a pretty good drawing of The Hulk on it.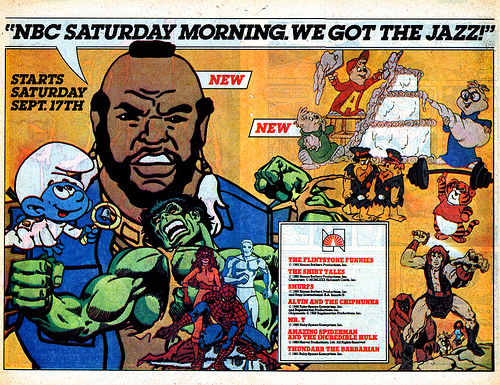 And, as always, the audio-only version of our show!
Podcast: Play in new window | Download
Subscribe: RSS